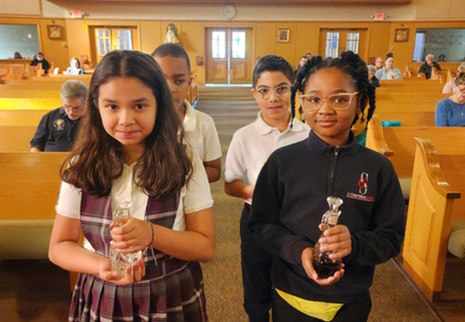 Welcome prospective school parents and children! Thank you for taking the time to visit our web site.
At St. Christopher School, we have a long history of excellence in Catholic education. Our school was founded in 1924 by the Franciscan Sisters. Since that time, over 4,700 students have passed through our halls.
We are proud of the many achievements of our graduates and our graduates are proud of us, as evidenced by the many second and third generation students in our school, whose parents and grandparents are also graduates of St. Christopher.
At. St. Christopher School, we are proud of having an academic curriculum second to none. We also have a strong enrichment program, including computers, Spanish language instruction, music and drama, art, library time, athletic programs and many student organizations. What makes our school special; however, is that our academic and enrichment programs are enveloped in a Christian environment, where Christ is the center of everything that we do. At St. Christopher School, we develop the entire child - in body, mind, and soul.
We invite to you take some time and explore our web site, to learn more about us and about our programs, facilities, and staff. However, the best way to answer all of your questions, concerns, and individual needs is to arrange a personal visit of our school, where you can tour our facilities, learn about our curriculum and programs, and meet our educational staff. We invite you to attend one of our open houses or, if none of these times are convenient for you, to arrange your visit by calling us at 708-385-8776 or by using our online visit request form.
We hope to see you soon at St. Christopher School - where your future starts today!