8th grade class home page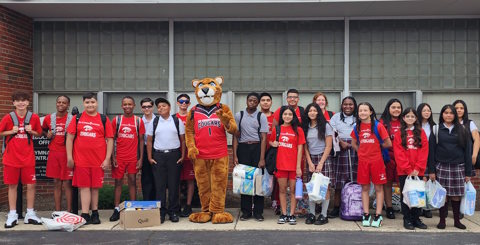 Welcome to Mrs. Dannemiller's Class!!
Meet the Teacher
Hello and welcome to Junior High! I am very excited to be beginning a new year here at St. Christopher School! I received my Bachelor of Science degree in Elementary Education and earned my Master's Degree in Science Education, both from DePaul University. As a former Catholic School student, I value Catholic Education and the many opportunities it has offered me. I am thankful for the support and dedication that I have received from our wonderful St. Christopher School and Parish families and look forward to an exciting year!
Classroom Update:
Welcome to the 2023-2024 school year! We look forward to working with you and your students as they learn and grow this year! Please be aware that the weekly parent envelopes contain many important documents which need to be completed and returned!
Academic Update:
This year we will be working on a variety of exciting activities which will challenge you to do your best, think creatively, push yourself outside your comfort zone, and most of all have fun. Below is a brief overview of what we are covering in room 32.
English:
8th grade will be writing persuasive/argumentative, expository and research papers.
Science:
6th grade is studying Earth's history

7th grade is studying the human body

8th grade is studying electricity
Religion:
8th grade will be learning more about God's Mysteries and living Christ's mission. We will also be preparing for the Sacrament of Confirmation.
Additional Reminders:
Please be sure to bring in all of your supplies and replenish them as needed throughout the year!

Remember the late work policy. If you do not have your work when it is due, you need to fill out the form and turn in both the work and the form within three school days.
Specials Schedule
Monday: Art/Music

Tuesday: Library/PE (every other Tuesday)

Wednesday: Computer/Art

Thursday: PE

Friday: Computers
Classroom Expectations:
Be Respectful

: Every student has the right to a safe and secure classroom; you do not have the right to impede or jeopardize that in any way. Treat others the way you want to be treated.

Be Responsible

: Act rationally; choose wisely. Recognize your own role in building a fun and productive community of learners. Understand there will be consequences, both good and bad, for your actions.

Be Safe

: Think about where you are and whom you are with. We must guarantee against harm or injury to another.

Be Cooperative

: Time and again you will be asked to do something that you may not like or think is worthless. Be mature; work through it. You may find that "getting there" is half the fun. Our world demands that you work well with others.

Be A Hard Worker

: Do your job to the best of your abilities! Challenge yourself to be productive. You are here; use your time wisely.

Be Peaceful

:

Be kind to each other—exercise self-control.
Helpful Links:
Class Documents
No class documents uploaded.
Last modified: 05-26-2023