5th grade class home page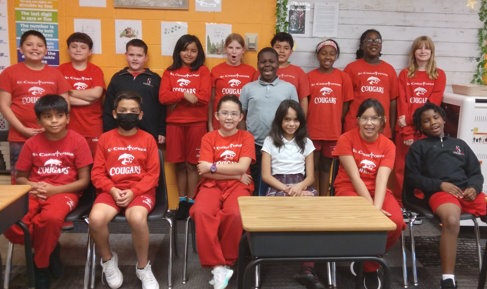 Welcome to Mrs. Triezenberg's Class!
Meet the Teacher
Hello and welcome to fifth grade! I am very excited to be teaching in my sixth year here at St. Christopher School. I received a B.A. in Education with a content focus in English from St. Louis University. I have sought out continuing education courses to help me grow professionally. As a graduate of St. Christopher, this school has held a special place in my heart since I was a child. I am always impressed by the strength and determination of our parents, students, and staff to keep St. Chris growing.
December Update
Please remember to keep up-to-date on your child's progress using Power School.
All supplies should be brought to school everyday to make sure your child is successful. School supplies may need to be replenished.
Here are some important dates to mark on the calendar for December.
Nov. 23: Parent teacher conferences (by appointment only) No school for students
Nov. 24-26: Thanksgiving break
Dec. 1: Advent Reconciliation Services
Dec. 6: Santa Shop preview
Dec. 7-8: Santa Shop
Dec. 16: Christmas Program PreK-3rd 6:30
Dec. 17: Pizza day/ Christmas room parties
Dec. 21: Christmas Program 4-8th 6:30
Dec. 22: Noon dismissal (no lunch/ no extended ay)
Jan. 6: School resumes
Academic Updates
Math
5th grade is working with decimals and fractions.
4th grade is practicing factors and mutiples.
**Fourth and fifth graders will continue to take times tests to practice their 0-12 multiplication facts. Please continue to study these every night at home.
Reading
5th grade is reading articles from Storyworks and discussing literary elements.
English
5th grade is writing a personal narrative.
4th grade is writing an adventure story.
Religion
5th grade is focusing on God, Our Creator.
Spelling
5th grade will continue to follow the chapters in the spelling book and strengthen their phonics skills.
Additional Reminders
Fifth graders should remember to stay organized and study nightly to be successful in all subjects. Please stay on top of the homework! Focusing in class is key!
Specials Schedule

Monday: Art and i-Ready
Tuesday: Library and PE (every other Tues.)
Wednesday: Computers *Mass day-no jeans day passes to be used
Thursday: P.E. (wear gym uniform)
Friday: Music
Classroom Rules and Expectations
These rules and expectations are posted in the classroom. Students developed the rules themselves, outlining the areas they want to focus on this year. The students have signed the document and will be held accountable for these expectations.
Be respectful of others.
Be kind to everyone.
Be a good sport.
Be supportive.
Treat others the way you want to be treated.
Be a good listener.
Be respectful to adults.
Come prepared for all of your classes.
Try your best no matter how hard it is.
BE THE NICE KID!
Helpful Links
Class Documents
| Title | Upload Date |
| --- | --- |
| Gym | Thursday, May 28, 2020 |
| Gym activities | Thursday, May 21, 2020 |
| Gym | Thursday, May 14, 2020 |
| Gym | Thursday, May 14, 2020 |
| Gym | Thursday, May 14, 2020 |
| Week 5 gym | Thursday, April 30, 2020 |
| Gym activities | Thursday, April 23, 2020 |
| Gym Active Home | Sunday, April 5, 2020 |
| Gym Monthly Calendar | Sunday, April 5, 2020 |
| April Gym Calendar | Sunday, April 5, 2020 |
| Gym March activities | Tuesday, March 17, 2020 |
| Gym March Calendar | Tuesday, March 17, 2020 |
| Gym Map | Tuesday, March 17, 2020 |
| Book it! Reading Log | Wednesday, December 2, 2015 |
Last modified: 11-17-2021