8th grade class home page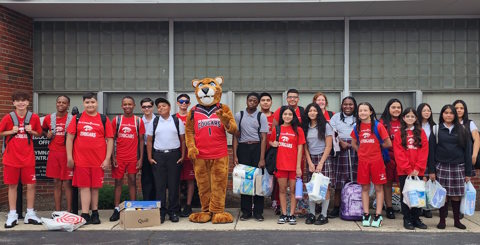 Welcome to 8th Grade!!
This year we will be working on a variety of exciting activities which will challenge you to do your best, think creatively, push yourself outside your comfort zone, and most of all have fun. Below is a brief overview of what we are covering in room 32.
Reading:
6th grade is currently studying short stories.

8th grade is currently studying short stories.
Science:
6th grade is currently studying Weather.

7th grade is currently studying the Human Body.

8th grade is currently studying Light & Color.
Religion:
8th grade learning more about God's Mysteries and living Christ's mission.
Additional Reminders:
Remember the late work policy. If you do not have your work when it is due, you need to fill out the form and turn in both the work and the form within three school days.
Classroom Expectations:
Be Respectful

: Every student has the right to a safe and secure classroom; you do not have the right to impede or jeopardize that in any way. Treat others the way you want to be treated.
Be Responsible
: Act rationally; choose wisely. Recognize your own role in building a fun and productive community of learners. Understand there will be consequences, both good and bad, for your actions.
Be Safe
: Think about where you are and whom you are with. We must guarantee against harm or injury to another.
Be Cooperative

: Time and again you will be asked to do something that you may not like or think is worthless. Be mature; work through it. You may find that "getting there" is half the fun. Our world demands that you work well with others.
Be A Hard Worker
: Do your job to the best of your abilities! Challenge yourself to be productive. You are here; use your time wisely.
Be Peaceful
:
B
e kind to each other—exercise self-control.
Class Documents
Last modified: 03-22-2017