1st grade class home page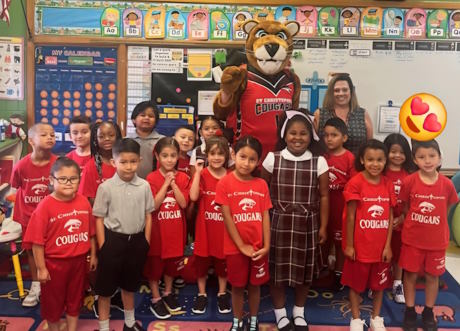 Welcome to Ms. Tzoumas' 1st Grade!
Meet the teacher: Hello and welcome to first grade! I am very excited to be back at St. Christopher School. I received my B.A. in elementary education with a content focus in English as a Second Language from UIC. I received my Master's in Leadership at Concordia University. I taught for several years in public schools and will pursue a career in administration in the near future.
Our Specials Schedule:
Monday: iReady
Tuesday: Library/Art
Wednesday: Computer
Thursday: Gym (must have gym uniform and gym shoes)
Friday: Mass/Music
Important Events in October:
Oct 6th:Progress Reports
Oct 7th:Curriculum Day Early Dismissal 12:00pm
Oct 9th:Staff Development, NO SCHOOL
Oct 12th:NO SCHOOL
Oct 21st:Curriculum Day Early Dismissal 12:00pm
Oct 23rd:Pizza Day, NO FSP SCHOOL LUNCH
Oct 30th: Halloween Parties
Notes:
Students go outside for recess, weather permitting. Please make sure they dress accordingly.
Everyday your child will bring home a green folder with homework and important notes. Please make sure to check their folders and return any papers that require a signature.
Every Friday your child will bring home their Friday Folder with classwork, homework, and tests they have done throughout the week. Please keep the work and send the Folder on the following school day.
Classroom Rules and Expectations:
1. Be KIND and HELPFUL
2. Be RESPONSIBLE
3. Be a good LISTENER
4. Be RESPECTFUL to everyone and everything
5. Do your BEST
Helpful Links:
https://login.mathletics.com/?_ga=2.98313049.796509805.1568913481-1760389013.1568913481

Class Documents
No class documents uploaded.
Last modified: 10-29-2020