1st grade class home page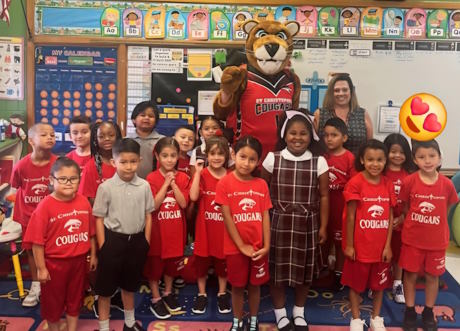 Welcome to Ms. Tzoumas' 1st Grade!
Meet the teacher: Hello and welcome to first grade! I am very excited to be starting my first year at St. Christopher School. I received my B.A. in elementary education with a content focus in English as a Second Language from UIC. I am currently working towards my Master's in Leadership at Concordia University. I have taught for six years in Chicago Public Schools and am excited to work in a new environment.
I will be posting monthly newsletters online for you to view. These Newsletters will cover important dates and academic updates as far as what the students are learning about in each content area.
Our Specials Schedule:
Monday: Music
Tuesday: Computers/Art
Wednesday: Mass at 8:30am
Thursday: Gym (must have gym uniform and gym shoes)
Friday: Library
Notes:
Every day your child will have snack time between 9-9:30 am. We ask that you send your child with a small and healthy snack.
Students go outside for recess, weather permitting. Please make sure they dress accordingly.
Everyday your child will bring home a green folder with homework and important notes. Please make sure to check their folders and return any papers that require a signature.
Classroom Rules and Expectations:
1. Be KIND and HELPFUL
2. Be RESPONSIBLE
3. Be a good LISTENER
4. Be RESPECTFUL to everyone and everything
5. Do your BEST
Helpful Links:
https://www.ixl.com/math/
Class Documents
| Title | Upload Date |
| --- | --- |
| January Newsletter | Monday, January 7, 2019 |
| December Newsletter | Tuesday, December 4, 2018 |
| November Newsletter | Wednesday, October 24, 2018 |
| October Newsletter | Wednesday, October 17, 2018 |
| September Newsletter | Tuesday, September 4, 2018 |
Last modified: 09-06-2018