Kindergarten class home page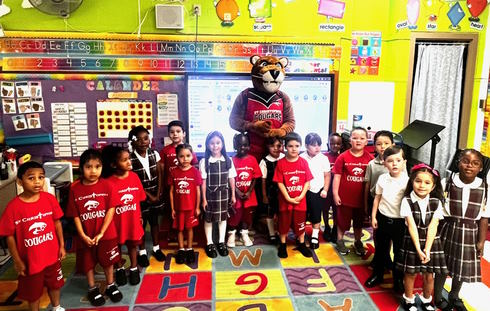 Welcome to Kindergarten!
Meet the Teacher!
Hello everyone! Welcome to Kindergarten! I am so excited to be starting my first year teaching with you all at Saint Christopher School! I recently received my Bachelors of Arts in Elementary Education from Saint Louis University. During my time there, I learned how to grow as a professional and a person. I have attended Catholic schools my whole life, so a Catholic Education holds a special place in my heart. I have always wanted to help children grow and love learning through the guidance of Christ. I am so excited to see what the year holds for us!
Here is the schedule for kindergarten's special classes this year:
Monday: Music
Tuesday: Computers
Wednesday : Mass
Thursday: Gym (gym uniforms/gym shoes all day)
Friday : Library
Wednesday at 8:30am is all school mass.
Every morning between 9:45-10 am kids have snack time. We ask that the kids bring small healthy snack. No chocolate and sugary snacks please.
April/May Monthly Updates

Important Days to Remember:
March 25-29th--Spring Break-NO SCHOOL!
April 1st-- School Resumes
April 2nd-- Confirmation Meeting for Parent/Sponsor Candidate Meeting in Church at 7pm
April 6th--First Communion Retreat 9:30 am to 1 pm
April 9th-12th--- ACT Aspire Testing Grades 3-8
April 17th--Progress Reports Go Home
April 18th--Holy Thursday 1 pm Dismissal and NO EXTENDED DAY
April 19th--Good Friday--NO SCHOOL
April 21st--Easter Sunday
April 22nd--NO SCHOOL
April 23-24th--Staff Development--NO SCHOOL
April 25th--School Resumes
April 28th--Confirmation Retreat
April 30th--First Communion Practice 6:30 pm
May 4th--First Holy Communion 12:30 pm
May 7th--May Crowning Ribbon Ceremony--Confirmation Practice at 6:30 pm
May 9th--Confirmation at 6:30 pm
May 13th--Tentative Spring Program
May 24th--1 pm Dismissal/Staff Meeting/ No Extended Day
May 27th--Memorial Day--NO SCHOOL
May 29th--8th Grade Graduation Award Ceremony --Preschool Picnic at 9:30 am-11:00 am
May 30th--8th Grade Graduation 7pm/Preschool Graduation 9 am
Gentle Daily Reminders
Please empty your child's TAKE HOME folder daily! I will send home important information and homework in these. When you send your child to school each morning, please make sure this same folder goes back with them. Thank you!
Rules and Expectations
In our Classroom, students have learned and practiced the rules and expectations daily. If you could remind your child of these rules and expectations, I would greatly appreciate it!
1. Raise your hand quietly if you have something to say!
2. Always try your best!
3. Be a good friend!
4. Be ready to learn!

5. Use kind words always!
6. Listen to when someone is talking!
7. Have fun and dream big!
Helpful Links
Class Documents
No class documents uploaded.
Last modified: 03-20-2019