Kindergarten class home page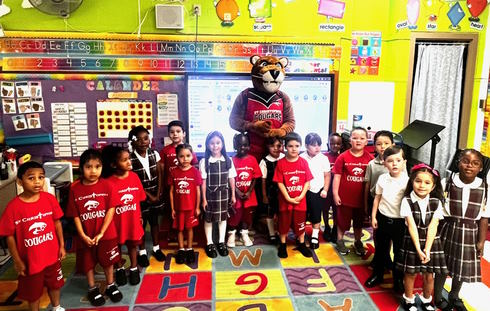 Welcome to Mrs. Wesner's Kindergarten Class!
Meet the Teacher!
Hello everyone! Welcome to Kindergarten! I am so excited to be starting my second year teaching with you all at Saint Christopher School! I taught for five years in Chicago Public Schools. I have a Bachelor's Degree in Early Childhood Education from Saint Xavier University and a Master's Degree in Curriculum and Instruction from Olivet Nazarene University. I am so excited to see what the year holds for us!
Here is the schedule for kindergarten's special classes this year:
Monday: i-Ready
Tuesday: Library
Wednesday : Art and Computers
Thursday: Gym (gym uniforms/gym shoes all day)
Friday : Music
Important Days to Remember:

March 10th - ½ Day
March 24th - ½ Day
March 19th - Pizza Day
March 31st - Progress Reports
April 1st - 1pm Dismissal
April 2nd- No School Good Friday
April 2nd-April 11th - Spring Break
April 12th - Return to School
Gentle Daily Reminders
Please empty your child's TAKE HOME folder daily! I will send home important information and homework in these. When you send your child to school each morning, please make sure this same folder goes back with them.
We will not be able to have snack this year because we are not able to eat in our room due to the 6 foot spacing while eating. In addition, birthday treats and prizes are not allowed in the classroom.
During this school year, if you have any questions, comments or concerns please feel free to contact me via email at cwesner@stchrisschool.org.
Rules and Expectations

In our Classroom, students have learned and practiced the rules and expectations daily. If you could remind your child of these rules and expectations, I would greatly appreciate it!
1. Raise your hand if you have something to say!
2. Always try your best!
3. Cooperate and take turns!
4. Be ready to learn!

5. Use your inside voice!
6. Keep your hands to yourself!
7. Have fun and dream big!
Helpful Links
Class Documents
Last modified: 03-07-2021