5th grade class home page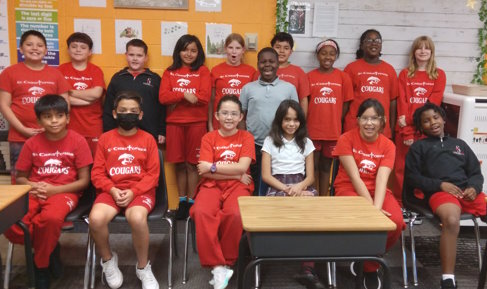 Welcome to 5th Grade!
We are half-way through the school year, and the fifth graders have been having fun and working hard. We've explored motion and the elements in science, created wonderful essays, and solved algebraic equations. All while learning how to work together and apply what we are learning! I'm excited for this second half of the year.
*St. Christopher will be holding a Murder Mystery Dinner on February 11. This will be a fun evening and counts towards fundraising. Tickets are still available!
*Please continue to check Powerschool and the homework page for updates.
SPECIAL SCHEDULE
Monday: Computers
Tuesday: Library
Wednesday: Spanish
Thursday: PE
Friday: Art


Classroom Rules and Expectations
These rules and expectations are posted in the classroom and we have gone through them explaining how we can make good choices to follow them.
1. Work as a TEAM
2. Be RESPONSIBLE
3. LISTEN to others
4. Be RESPECTFUL to everyone
5. Be KIND and HELPFUL
6. Do your BEST



Class Documents
Last modified: 01-26-2017