5th grade class home page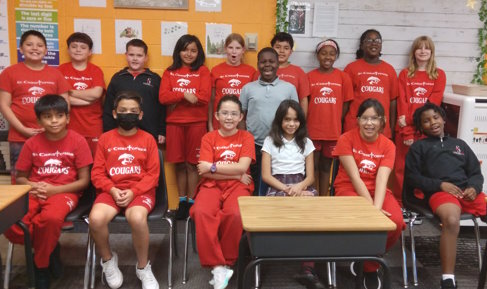 Welcome to Ms. McDermott's Class!
Meet the Teacher
Hello and welcome to fifth grade! I am very excited to be starting my second year here at St. Christopher School. I received a B.A. in Secondary Education with a content focus in English from St. Louis University. I have sought out continuing education courses to help me grow professionally. As a graduate of St. Christopher, this school has held a special place in my heart since I was a child. I am always impressed by the strength and determination of our parents, students, and staff to keep St. Chris growing.
April Update
Please remember to keep up-to-date on your child's progress using PowerSchool.
All supplies should be brought to school everyday to make sure your child is successful. School supplies may need to be replenished.
Here are some important dates to mark on the calendar for March.
Mar. 30: Good Friday, no school
Apr. 1: Easter!
Apr. 2-6: Easter break, no school
Apr. 9: School resumes
Apr. 10-13: Aspire testing
Apr. 15: Open House
Apr. 18: Progress Reports go home
Apr. 20: Pizza Day
Apr. 21: Father-Daughter Dance
Altar-serving practice 12-2
Apr. 23-27: Spirit Week
Apr. 28: Altar Serving practice 12-2
Academic Updates
From now until Easter break, fifth graders are working on taking accelerated reader tests. For every test passed at grade level, students will earn a popsicle stick. These popsicle sticks will go to building Cupcake her own magic tree house! Cupcake can't wait so keep on reading!
Math
5th grade is delving into geometry, moving on to the study of angles!
4th grade is having fun with fractions and will start decimals soon!
**Fourth and fifth graders will continue to take weekly times tests to practice their 0-12 multiplication facts. Please continue to study these every night at home.
English
5th grade is learning how to use research in argumentative writing.
4th grade is exploring analytical expository writing and the study of nouns and verbs.
Science
5th grade is studying inheritance and will start their garden once the weather gets warm!
Religion
5th grade is focusing on the sacrament of the Eucharist.
Spelling
5th grade will continue to follow the chapters in the spelling book and strengthen their phonics skills.
Additional Reminders
Fifth graders should remember to stay organized and study nightly to be successful in all subjects. Failure to turn in homework will result in a late notice. Please stay on top of the homework! Focusing in class is key!
Specials Schedule

Monday: Computers
Tuesday: P.E. (wear gym uniform)
Wednesday: Music
Thursday: P.E. (wear gym uniform)
Friday: Library
Classroom Rules and Expectations
These rules and expectations are posted in the classroom. Students developed the rules themselves, outlining the areas they want to focus on this year. The students have signed the document and will be held accountable for these expectations.
Be organized.
Listen to the teacher.
Be a good friend.
Be respectful.
Be quiet when others are speaking.
Play nice with others.
Raise your hand when you want to speak.
Be respectful of materials.
No tipping on the chairs.
Be positive!
Try your best!
Treat others the way you want to be treated.
Helpful Links
Class Documents
Last modified: 04-13-2018