St. Christopher Mothers' Club Annual Holiday Craft Show
Cancelled for 2020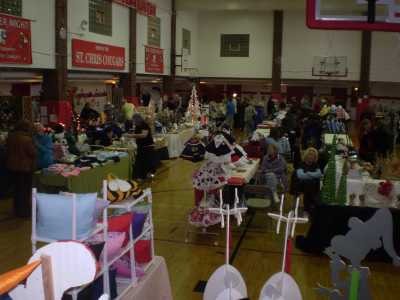 We are sorry to announce that the 47th annual Mothers' Club Annual Holiday Craft Show, scheduled to be held in November, 2020, has been cancelled due to the COVID-19 pandemic. The Annual Holiday Craft Show will resume next year, in 2021. We look forward to seeing you next year!
Welcome to the webpage of the St. Christopher Mothers' Club Craft Show. 2020 marks the 48th year for our Craft Show. Our Craft Show not only showcases over 60 Crafters and Vendors, but we also have an adult and children's raffle, bake sale (with our wonderful fresh baked bread) and a full kitchen. All of the proceeds benefit our school.
In order to participate in our Craft Show, all crafters' work must be the original work of the exhibitor. We do not accept flea market, manufactured, or garage sale items. If you are a vendor, we will only accept one representative from each company. All applicants must submit pictures of the items being sold as well as their display. While this is not a juried craft show, we do review all applications as we want to ensure the show has a good variety of crafts and items being sold.
Thank you for your interest in our Craft Show. If you would like to participate in this year's show please download the information packet along with the application. If you have any questions please email StChrisMothersClub@gmail.com.
Downloads
2019 St Chris Craft Show Information
2019 St Chris Craft Show Application

Frequently Asked Questions
What do I get for my fee?

You will get one space to sell your items that is approximately 9' wide by 5' deep. We will supply one (1) banquet table with two (2) chairs per table. Items must be displayed within this space, and not encroach on neighboring spaces or aisles.

Do you accept applicants who want to sell bakery items?

We do not accept applications which request to sell bakery items such as cupcakes, cakes or pies.

I am a vendor/independent consultant, should I just mail in my application? What if you already have that product represented?

Prior to sending in your application, please email StChrisMothersClub@gmail.com to find out if a representative for the product you are selling already has applied/been accepted for this year's show.

I need electricity. Are all spaces equipped with electricity?

We have a limited number of spaces that have electricity. If you need a space with electricity, please indicate on the application. There is an additional $10 fee for the use. Also, you are required to bring your own heavy duty extension cord.

How will I know if I am accepted into the Craft Show?

We will send a confirmation email to all applicants if they are approved. Table assignments will be confirmed once the event is full but no later than one week prior to the Craft Show.

When can I set up my table?

Set up is Saturday morning. Doors open at 7am for load in. All exhibitors must be set up prior to the opening of the Craft Show which is at 9am on Saturday. Friday evening setup is available, please see the information packet for details.

How will lunch work?

Concessions are available throughout the day. Our kitchen will be open from 10:00 am to 3pm. At lunch, our student volunteers will go to each exhibitor to take lunch orders then deliver the orders once they are filled. We also serve complimentary coffee from 7am to 9am to all our crafters and vendors.

I am a returning exhibitor. Do I still need to send photos of my work and display?

If you participated in last year's show you do not need to submit a photo of your work. All other crafters must submit photos of their work.

Can I pay my fee the day of the Craft Show?

All fees must be paid when the application is submitted and must be in the form of a check or money order. We will no longer accept cash payments nor will we be accepting payment the day of the show. Your application fees reserves your spot in the show. If payment is not received then that spot can be given away.

Will I get the same spot I had last year?

Table assignment is on a first come first serve basis. You can indicate on the application that you are requesting your previous space. While we try to accommodate all requests for tables they are not guaranteed.