Financial Aid and Tuition Assistance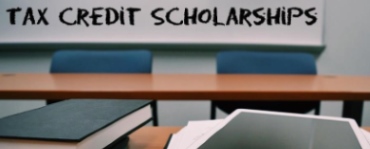 At St. Christopher School, we are committed to making our school affordable to ALL families. Thanks to the generosity of the Archdiocese of Chicago and St. Christopher Parish, our school is able offers a financial assistance program to help school families.
We are excited to report that the State of Illinois has created a new program to help families afford and attend schools like St. Christopher. This program creates tax credit scholarships for families that choose to attend private schools, and these scholarships could pay up to 100% of tuition and eligible fees. We strongly encourage all families to apply for these scholarship, if they think that they may be eligible.
As a result of this new scholarship program, our financial aid application process for the 2018-19 school year will be different from our process in years past. Also, note that the details of how to apply for tax credit scholarships are still be finalized by the State of Illinois and the Archdiocese of Chicago. We will update this page as new information becomes available
Application Process
Phase 1 - State of Illinois Scholarships
The first phase of our financial aid process is for all families who may be eligible for State of Illinois Scholarships to apply for them.
This program potentially offers enormous financial opportunities for your family
, and we encourage you to learn more about it. Further details about these scholarship may be found on our
State of Illinois scholarship information page
.
Here are some basic facts about this new scholarship program:
Families who adjusted gross income is less than 300% of the federal poverty level are eligible to apply.
The details of the application process are still being finalized by the State of Illinois and the Archdiocese of Chicago. We will provide information as it becomes available.
Scholarships will be awarded on a First-Come, First-Serve basis, so we encourage families to apply for them on the first day that applications are accepted.
The application process is tentatively scheduled to begin on January 2, 2018, but the details of the process are still being finalized by the State of Illinois.
You must be registered for St. Christopher School for the 2018-19 school year before applying for a scholarship for our school.
Scholarships will apply to the 2018-19 school year
If you are a new or prospective family, you need to register for St. Christopher School for the 2018-19 school year and pay the $50 (non-refundable) initial registration fee before you can apply for a scholarship for our school. If you are an existing school family, should must sign a Letter of Intent, indicating your intent to return to our school next year. We recommend that any family interested in applying for a scholarship complete these steps as soon as possible, as our school will be closed for Christmas break two weeks before the application process is scheduled to begin.
Further details can be found on our State of Illinois scholarship information page. Please feel free to contact our school at 708-385-8776 or at info@stchrisschool.org if you have any questions. We encourage all interested families to visit us so that we can explain the details of this process individually to you. Finally, the Archdiocese of Chicago has additional information at www.archchicago.org/tcs.
Phase 2 - Secondary Scholarship Sources
Those families that do not receive a Tax Credit Scholarship will be considered for other scholarship sources, including Caritas Scholarships (if available) and St. Christopher Parish Scholarships. Only one application should be submitted per household. Scholarships will be reviewed on a rolling basis until funds are exhausted. Applicants will not be reviewed until this application and the FACTS financial aid forms are complete and the required tax information submitted to FACTS.
This secondary scholarship program is handled by FACTS Management Company. Families complete an online application that sends the necessary information directly to FACTS. Your personal financial information does not pass through our office, but is handled directly and confidentially by FACTS.
The secondary financial aid application process consists of the following steps:
Complete the FACTS online appliation
Upload or FAX the supporting information to FACTS
- recent Federal tax forms
- 2016 W-2 forms and Social Security Income documentation
- Welfare, Child Support, Food Stamps, Workers' Compensation, and TANF documentation
Pay a one-time non-refundable application fee of $30.00 per family via credit card online
To faciliate awarding tuition assistance scholarships, we ask that applications be completed as soon as possible. Although we will consider all requests for scholarships, whenever they are received, awards to families who qualify are made on a first-come, first-served basis. If you qualify for a scholarship, the earlier your application is submitted, the better the chances that financial resources will be available to fund your scholarship.
If you have any questions or need more information, please do not hesitate to contact us at 708-385-8776 or via email at info@stchrisschool.org.