2nd grade class home page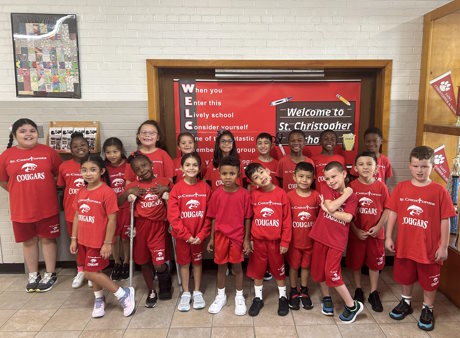 Welcome to Mrs. Roberson's Second Grade Class!

Meet the Teacher: Hello and welcome to Second Grade! This is my 5th year teaching at St. Christopher. I have a Bachelor's Degree in Business from DePaul University and I have a Master's Degree in Teaching from Olivet Nazarene University.
Please see my monthly Newsletter posted below for important events and reminders. You will also find academic updates in the Newsletter.
Special schedule
Monday: Music
Tuesday: Computers & Art
Wednesday: Mass*
Thursday: PE**
Friday: Library
*School uniforms must be worn on Wednesday for Mass. No jeans day passes will be honored on Wednesday.
**Please remember that your child must wear their St. Chris gym suits and gym shoes for PE.
Our lunch is at 11:30 and we will have recess after lunch each day.
Important Notes
During the summer months your child may bring a water bottle to class.

Water Only.

Please make sure the bottle has a tight seal on it and is easy to drink from.

Please also put your child's name on the bottle.
We will have snack each day.

Please make sure to send a healthy snack each day.

All dessert sacks will be sent back home.

Please note the new policy for birthday treats on page 25 of the parent handbook.

No frosted cupcakes should be sent to school.
Your child brought home their Home Folder and Assignment Notebook today.

The folder pockets are marked "Bring Back to School" and "Stay at Home".

Notes will go in the "Stay at Home" side unless they need to be returned and homework should go on the "Bring Back to School" side.

Please go over all homework assignments with your child and initial the assignment book each day and return it to school.

Weekly spelling words will also be written in the Assignment Notebooks.
Every Friday you will also receive a Friday Folder with all your student's graded work.

Please return those folders by the next school day.
A monthly newsletter will be sent home via email.

In this letter you will find information about what the students will be learning that month.

If you would prefer a paper copy of this letter, please let me know.
The St. Chris website contains our weekly classroom schedule and daily homework assignments.

You will also find weekly spelling words and an overview of the lessons for the week.

You can find it at

https://www.stchrisschool.org/homework

under 2nd Grade.
During this school year, if you have any questions, comments or concerns please feel free to contact me via email at rroberson@stchrisschool.org.
Discipline Plan for 2018 – 2019
Rules
Listen and Follow Directions

Raise Your Hand Before Speaking or Leaving Your Seat

Respect Your Classmates and Your Teacher

Keep Your Hands, Feet and Objects To Yourself
Behavior Chart
Blue – This is the highest level where students have gone above and beyond in the classroom
Green – Everyone starts here and students should work to stay on green or move up to Blue
Yellow – The first warning
Orange – The second warning and student will lose 10 minutes of recess.
Red – Final warning, a "Think About It" sheet is filled out at school and taken home to be signed by mom or dad and they have lost their next recess privilege for the day.
When a student ends their day on blue, they receive a certificate and will be able to pick a prize from the Treasure Chest.
We have two reward programs. Every day a Secret Super Hero will be chosen. Only the students who did NOT move their behavior clip are eligible to be our Hero. This encourages students to stay on green. Heroes will have special jobs that day and receive a prize.
Students also have an opportunity to pick from the treasure chest when they have filled their treasure map with gold. They will earn gold each day their assignment notebook is signed and when they bring their Friday Folder back with a signature. They will also have other opportunities to earn gold throughout the day with good behavior.
Grading System
Math
Tests – Grade is a percentage based on the number of questions
Classwork – 10 points
Homework – 5 points
Reading
Unit Tests – Each section will range between 5 and 10 points (Decoding, Encoding, Non-Fiction Comprehension, Fiction-Comprehension, Unit Skills and writing)
Classwork – 10 points
Reading Logs will begin in January and are worth 10 points each
Spelling
Tests – 10 points with extra credit options
Homework – 5 points
Spelling Pre-Test – 10 points Signed pre-tests are due on the day of the test
Language Arts
Unit Tests – Each section is 5 points
Classwork – 10 points
Social Studies
Tests – percentage based on the number of questions
Classwork – 10 points
Science
Tests – percentage based on the number of questions
Classwork – 10 points
If homework is not turned in the day it is due, the grade will be dropped from 5 to 4.
Grading Scale (As seen on Power School)
A = 100% - 93%
B = 92% - 85%
C = 84% - 73%
D = 72% - 65%
U (F) = 64% - below
Class Documents
| Title | Upload Date |
| --- | --- |
| May News | Wednesday, May 8, 2019 |
Last modified: 10-31-2018