2nd grade class home page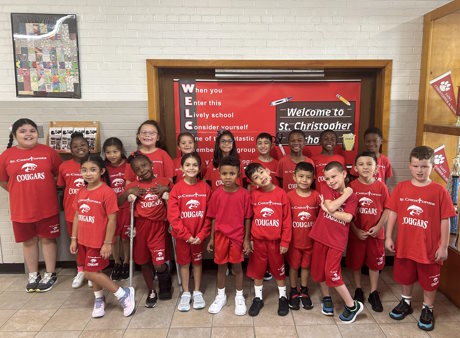 Mrs. Roberson's Monthly News
April, 2018
Spring if finally here! I hope warmer weather comes quickly! We are trying to go outside for recess as much as possible. Please make sure your students have weather appropriate jackets.
We are also getting closer to the end of the school year. We have been very busy and we are running low on some of our school supplies. We are in need of erasers and crayons. Please send a pink eraser and a small box of crayons to school with your child.
We are also in need of paper egg cartons for a Spring craft. If you have any, please send them to school.
Homework and Spelling words can be found on the homework page of the St. Chris website each week. Be sure to check there if you need a copy of the spelling words.
Please also remember to sign and return your child's spelling pre-test each week.
Important Notes
The St Christopher Father Daughter Dance will be held on Saturday, April 21.
Open House will be on Sunday, April 15 from 10:30-12:30.
Spring break will begin on Thursday, March 29 at 1 pm through April 8. School will resume on Monday, April 9.
For those who are making their First Communion, a retreat will be held on Saturday, April 14 from 9am to Noon. First Communion will be on Saturday, May 5.
Progress Reports will go home on April 18.
Save the Date! The Spring Music Program will be on Wednesday, May 16.
This Month
Spotlight on Religion: We will continue to learn about the Eucharist and preparing for First Communion.
Spotlight on Language Arts: We will work onomatopoeia and continue to work on adjectives and homonyms. We will also learn to spell words with long I and long o.
Spotlight on Math: This month we will finish measuring in inches and feet and we will also work on multiplication tables of 3 and 4.
Spotlight on Social Studies: This month we will study Our Place on Earth.
Spotlight on Reading: We will finish reading the Super Magazine, Splish Splash and start a new Book Club with The Bears on Hemlock Mountain.
Important notes about for Second Grade.
During the warm weather your child may bring a water bottle to class. Water Only. Please make sure the bottle has a tight seal on it and is easy to drink from. Please also put your child's name on the bottle.

We will have snack each day. Attached is a list of healthy snacks. All dessert sacks will be sent back home. Please see the updated policy on birthday treats on page 25 of the Parent Handbook.

Your child brought home their Home Folder and Assignment Notebook. The folder pockets are marked "Bring Back to School" and "Stay at Home". Notes will go in the "Stay at Home" side unless they need to be returned and homework should go on the "Bring Back to School" side. Please go over all homework assignments with your child and

initial the assignment book each day

and return it to school.

Every Friday you will also receive a Friday Folder with all your student's graded work. Please return those folders by the next school day.

A monthly newsletter will be sent home via email. In this letter you will find information about what the students will be learning that month. If you would prefer a paper copy of this letter, please let me know.

The St. Chris website contains our weekly classroom schedule and daily homework assignments. You will also find weekly spelling words and an overview of the lessons for the week. You can find it at

https://www.stchrisschool.org/homework

under 2nd Grade.

During this school year, if you have any questions, comments or concerns please feel free to contact me via email at rroberson@stchrisschool.org.
Rules
Listen and Follow Directions

Raise Your Hand Before Speaking or Leaving Your Seat

Respect Your Classmates and Your Teacher

Keep Your Hands, Feet and Objects To Yourself
Behavior Plan
Blue – This is the highest level where students have gone above and beyond in the classroom
Green – Everyone starts here and students should work to stay on green or move up to Blue
Yellow – The first warning
Orange – The second warning and student will lose 10 minutes of recess.
Red – Final warning, a "Think About It" sheet is filled out at school and taken home to be signed by mom or dad and they have lost their next recess privilege for the day.
Below is our "special" schedule.

Monday: Music
Tuesday: PE** & Art
Wednesday: Mass* & Computers
Thursday: PE**
Friday: Library
*School uniforms must be worn on Wednesday for Mass. No jeans day passes will be honored on Wednesday.
**Please remember that your child must wear their St. Chris gym suits and gym shoes on Tuesday and Friday for PE.
Our lunch is at 11:25 and we will have recess after lunch each day.
Class Documents
Last modified: 04-09-2018