2nd grade class home page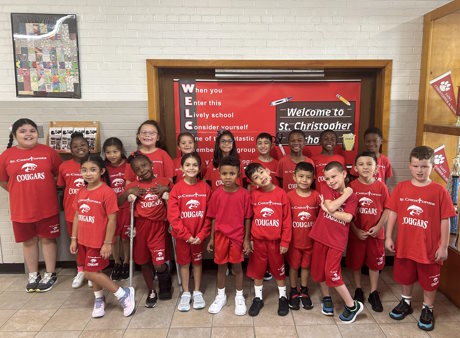 Mrs. Roberson's Monthly News
January, 2018
Happy New Year! I hope you all had a chance to enjoy your children over Christmas break. Thanks for sharing your precious gifts with me as we finish the school year. Also a big thanks to our parent volunteers who helped with our Christmas party. The kids had a blast!
January will be another busy month as we try to get back into our school routines. We're kicking off the year with chilly temperatures so make sure your little ones have sweaters because our room can get chilly. The beginning of the year also brings the tradition of setting goals. The kids already spent some time thinking about their goals and made some adorable resolutions for the New Year!
Important Notes
It is very important for our students to be reading every day. Please encourage your children to spend time reading at home. The time they spend reading can be used for the Book IT! logs. Book IT logs are due on the first of every month.
We do not have school on Monday, January 15 in honor of Dr. Martin Luther King.
Trimester 2 Progress reports will also go home on January 18. Homework and Spelling words can be found on the homework page of the St. Chris website each week. Be sure to check there if you need a copy of the spelling words.
Catholic Schools Week will begin on Sunday, January 28 and go through February 3.
This Month
Religion: We will celebrate the word of God and learn about God's love. We will also begin preparing for First Holy Communion.
Spotlight on Language Arts: We will work on the use of capitalization rules, periods and question marks and learn how to read and write editing marks to show corrections.
Spotlight on Math: We will work on mental math and begin counting money!!
Spotlight on Science: We are studying physical science. This will include matter and the three stages of matter. We will also cover sound, heat and light.
Spotlight on Reading: We will read a new SUPER magazine and we will be starting a new Book Club and read Wagon Wheels and Betsy Cried Wolf. We will look at writing techniques and learn about the use of similies and sequencing events
Important notes about for Second Grade.
During the warm weather your child may bring a water bottle to class. Water Only. Please make sure the bottle has a tight seal on it and is easy to drink from. Please also put your child's name on the bottle.

We will have snack each day. Attached is a list of healthy snacks. All dessert sacks will be sent back home. Please see the updated policy on birthday treats on page 25 of the Parent Handbook.

Your child brought home their Home Folder and Assignment Notebook. The folder pockets are marked "Bring Back to School" and "Stay at Home". Notes will go in the "Stay at Home" side unless they need to be returned and homework should go on the "Bring Back to School" side. Please go over all homework assignments with your child and

initial the assignment book each day

and return it to school.

Every Friday you will also receive a Friday Folder with all your student's graded work. Please return those folders by the next school day.

A monthly newsletter will be sent home via email. In this letter you will find information about what the students will be learning that month. If you would prefer a paper copy of this letter, please let me know.

The St. Chris website contains our weekly classroom schedule and daily homework assignments. You will also find weekly spelling words and an overview of the lessons for the week. You can find it at

https://www.stchrisschool.org/homework

under 2nd Grade.

During this school year, if you have any questions, comments or concerns please feel free to contact me via email at rroberson@stchrisschool.org.
Rules
Listen and Follow Directions

Raise Your Hand Before Speaking or Leaving Your Seat

Respect Your Classmates and Your Teacher

Keep Your Hands, Feet and Objects To Yourself
Behavior Plan
Blue – This is the highest level where students have gone above and beyond in the classroom
Green – Everyone starts here and students should work to stay on green or move up to Blue
Yellow – The first warning
Orange – The second warning and student will lose 10 minutes of recess.
Red – Final warning, a "Think About It" sheet is filled out at school and taken home to be signed by mom or dad and they have lost their next recess privilege for the day.
Below is our "special" schedule.

Monday: Music
Tuesday: PE** & Art
Wednesday: Mass* & Computers
Thursday: PE**
Friday: Library
*School uniforms must be worn on Wednesday for Mass. No jeans day passes will be honored on Wednesday.
**Please remember that your child must wear their St. Chris gym suits and gym shoes on Tuesday and Friday for PE.
Our lunch is at 11:25 and we will have recess after lunch each day.
Class Documents
Last modified: 01-08-2018