3rd grade class home page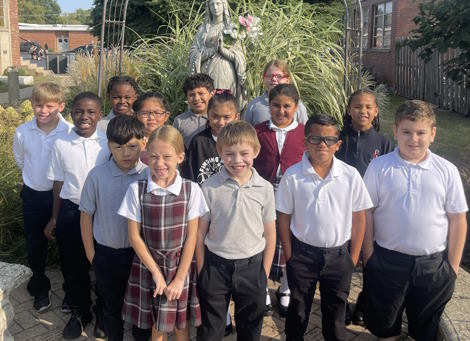 Welcome to Mrs. Wirtz's 3rd grade class.
Meet the teacher
Hello! My name is Mrs. Wirtz and this is my first year teaching at St. Christopher School and I am very excited to have the opportunity to work with your child. I have been blessed to have been given a Catholic education throughout my life and I am very blessed to be working at St. Christopher School. I have received my Bachelor of Science degree in Elementary Education from St. Xavier University and earned my Master's Degree in Curriculum and Instruction from Olivet Nazarene University. I also have my ESL endorsement. I cannot wait to spend the year learning and growing with you!
Upcoming Important May Dates
4th: First Holy Communion 12:30 p.m.
7th: May Crowning/Ribbon Ceremony
Confirmation Practice 6:30 p.m
9th: Confirmation
24th: 1:00 dismissal/NO EXTENDED DAY!
27th: Memorial Day: NO SCHOOL
29th: 8th grade graduation awards
Preschool Picnic 9:30-11:00
30th: Graduation-7:00 p.m.
Preschool Graduation 9:00 a.m
Here is our"special" schedule

Monday: Music
Tuesday: Computers
Wednesday: Art
Thursday: P.E
Friday: Library
May Academic Update
Reading: Charlotte's Web
Math: Multiplication & Division with/without regrouping, Mental multiplication & division
Science: How does water change living things and people, Protecting our natural resources, & How does plants and animals grow?
Language Arts: contractions, apostrophes, suffixes, pronouns, adjectives, & adverbs
Spelling: r-Controlled Vowel, single syllable homophones, double consonants in middle words
Religion: We Pray to the Spirit, Open to All, & We Gather for Mass
Handwriting: Cursive; Uppercase letters
3rd grade classroom rules

Raise your hand.

Do not talk when other people are talking.

Follow directions the first time that they are given.

Follow classroom and school rules.

Listen to teachers and others.

Keep your hands, feet, and objects to yourself.

Respect everyone and their property.

Do not disturb others.
Consequences
There will be a color system used for classroom management. All students will start their day on green. If the student's behavior decreases throughout the day, the student will be asked to change their card. The colors system is as follows.
Green - student had a great day
Yellow – warning
Red – student has not changed their behavior
Grading Scale
A: 100% - 93%
B: 92% - 85%
C: 84% - 73%
D: 72% - 65%
F: 64% or below
Homework
Completing homework assignments are important. Homework is given to reinforce lessons that have been taught and to teach responsibility. If a homework assignment is not turned in, the consequences are as follows.
1st day – warning and lose 10 minutes of recess
2nd day – color change and no recess
3rd day – no recess and an e-mail or phone call home
IMPORTANT INFORMATION
Each day we will have a quick snack break. Please make sure that you send your child with a healthy snack. During the hot weather, your child can bring a water bottle. Water only please.
There are several students with peanut allergies in our class. Please beware and do not send any snacks containing peanuts.
Parental Communication
Your child's behavior color will be recorded each day in their student planner. Please write your initials each day in their student planner. It is important that you initial this even if your child is on green. Your child will also have written their homework in their student planner. Each homework assignment will go home daily in their green folder.
Every Friday your child will bring home a blue Friday folder, which I have provided for you. The folder will include school notes and graded papers. Please review these graded papers with your child, sign and return Monday morning.
If you have any questions, comments, or concerns, please feel free to contact me at dwirtz@stchrisschool.org.
Class Documents
Last modified: 04-29-2019