3rd grade class home page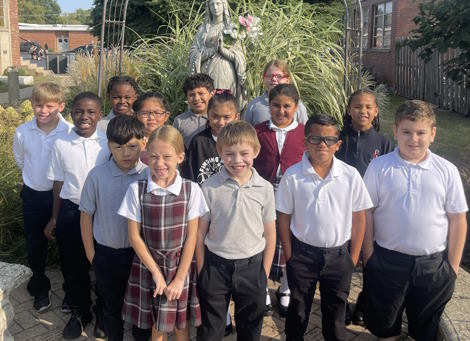 **ASPIRE testing is over and students in 3rd grade did great!
As the weather continues to warm up you may send your students with water bottles to keep them hydrated. Also, if students bring a snack, be sure it is a healthy one!
This month students will read the novel, The Lemonade War. They will complete different comprehension, vocabulary, and writing activities. There will be a book report required after completing the novel. Also, as you may remember from last year, third graders will make lemonade to share toward the end of the month. Details will go home when the time gets closer.
In math, students will learn about lines, angles, and shapes. We will also continue to review work throughout the month. This will include multiplication and division skills.
In science, students will complete a unit on forces and motion. Students will learn about the 6 different Simple Machines.
In Religion, students will learn about the Catholic priest in the United States, what it means to be a missionary, and learn about the Rosary.
If you have any questions or concerns about any matter regarding your child please feel free to contact me at any time.
Mrs. King
Rules

Follow directions the first time they are given.

Keep your hands, feet, and objects to yourself.

Speak in a respectful, considerate, and truthful manner to all students and adults.

Follow school day procedures at all times.

Work quietly and do not disturb others.
Consequences
There will be a color system used for classroom management. Students will start their day on green. If a student's behavior decreases throughout the day, his/her card will be changed accordingly. The colors start on green and go to yellow, blue and then red.
The color meanings are listed below:
Green—student had a GREAT day

Yellow—warning

Blue—student has not changed behavior

Red—student has not changed behavior
Class Schedule
8:00-8:20- Morning Work
8:25-9:35- Reading/Language ( Tuesday morning Mass at 8:30)
9:40-9:55- Snack/bathroom
10:00-11:00 Math
11:05-11:25- Recess
11:30-12:00- Lunch
12:05-12:45- Specials: Monday-Art, Tuesday- Computers, Wednesday- Spanish, Thursday- Library, Friday- P.E
1:00-1:20 Spelling
1:25--1:45- Social Studies (Music- 1st semester)
1:50-2:20- Religion
2:25-2:40- Handwriting
2:45-3:00- Prayer/Dismissal
Fun Websites:
iPad Apps that help support learning and creativity:
imovie
garage band
shadow puppet
Class Documents
Last modified: 05-01-2017