3rd grade class home page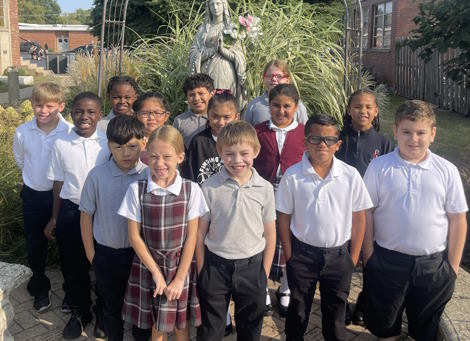 Welcome to Mrs. Wirtz's 3rd grade classroom



Hello! My name is Mrs. Wirtz and this is my third year teaching at St. Christopher School and I am very excited to have the opportunity to work with your child. I have been blessed to have been given a Catholic education throughout my life and I am very blessed to be working at St. Christopher School.

I have received my Bachelor of Science degree in Elementary Education from St. Xavier University and earned my Master's Degree in Curriculum and Instruction from Olivet Nazarene University.

I also have my ESL endorsement.

I cannot wait to spend the year learning and growing with you!
March Important Dates:
2nd: First Reconciliation 5:30 p.m.
10th: Curriculum Day: 12:00 dismissal.
19th: Pizza Day!
24. Curriculum Day: 12:00 dismissal
31st Progress Reports
March Academic Update:
Reading: compare/contrast, cause/effect, plot & characters.
Language Arts: Pronouns & adjectives
Spelling: double consonant plus y, drop final e and add ing, consonant doubling
Math: Division, mental multiplication, & multiplying 3 digit numbers without regrouping
Social Studies: Landforms & Communities and How Do Resources Impact a Community
Religion: The Church Prays, Mary Is Holy, & Holy Week
Handwriting: Uppercase cursive letters
3rd grade "special" Schedule
Monday: I-Ready
Tuesday: Library
Wednesday: Computers & Art
Thursday: Gym
Friday: Music
3rd grade classroom rules

Always do your best
Use kind words
Listen when others talk
Clean up and help out
Say please and thank you. Always use good manners
Respect each other
Follow directions
Consequences
There will be a color system used for classroom management. All students will start their day on green. If the student's behavior decreases throughout the day, the student will be asked to change their card. The colors system is as follows.
Green - student had a great day
Yellow – warning
Red – student has not changed their behavior. As a result, a consequence will be given at my discretion. Some consequences may include missing some or all recess, or a student may be given a lunch or after school detention. If a lunch or after school detention is issued, your child will be given a detention slip which must be signed and returned the next day.
Grading Scale
A: 100% - 93%
B: 92% - 85%
C: 84% - 73%
D: 72% - 65%
F: 64% or below
Homework
Completing homework assignments are important. Homework is given to reinforce lessons that have been taught and to teach responsibility. If a homework assignment is not turned in, the consequences are as follows.
1st day – warning and lose 10 minutes of recess
2nd day – color change and no recess
3rd day – no recess and an e-mail or phone call home
Parental Communication
Your child's behavior color will be recorded each day in their student planner. Please write your initials each day in their student planner. It is important that you initial this even if your child is on green. Your child will also have written their homework in their student planner. Each homework assignment will go home daily in their green take home folder.
Every Friday your child will bring home a blue Friday folder which I have provided for you and will collect at the end of the year. The folder will include school notes and graded papers. Please review these graded papers with your child, sign and return Monday morning. Please keep any extra papers that do not need to be returned at home.
If you have any questions, comments, or concerns, please feel free to contact me at dwirtz@stchrisschool.org.
Class Documents
No class documents uploaded.
Last modified: 02-28-2021