State of Illinois Scholarship Information
Late updated: Thursday, December 13, 2018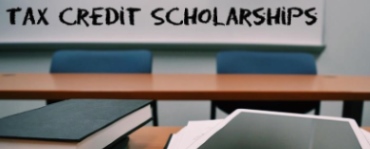 Below is some information about the State of Illinois scholarship program. Further information can be found on the Archidiocese of Chicago Tax Scholarship Program home page or Fact Sheet. Also, please feel free to contact our school at 708-385-8776 or info@stchrisschool.org for further information.
What are the new State of Illinois Scholarships?
In September 2017, the State of Illinois enacted a new law that for the first time provides scholarships to those families who choose to send their children to private schools.
Who can get a State of Illinois Scholarship?
To be eligible for a scholarship, your family's adjusted gross income must be less than 300% of the federal poverty level and your child must in kindergarten through 8th grade.
How much do the State of Illinois Scholarships cover?
The State of Illinois scholarships cover between 50% and 100% of your tuition and fees, based on your family's income. This is far more than is available from any other sources of financial aid that we have to offer.
The amount of the scholarship depends upon your family's income according to the chart below:
Family Adjusted Gross Income
Persons in Household
Below 185% of Poverty Level:
Scholarships up to 100% of tuition & fees
Below 250% of Poverty Level:
Scholarships up to 75% of tuition & fees
Below 300% of Poverty Level:
Scholarships up to 50% of tuition & fees
2
$30,044
$40,600
$48,720
3
$37,777
$51,050
$61,260
4
$45,510
$61,500
$73,800
5
$53,243
$71,950
$86,340
6
$60,976
$82,400
$98,880
How is it decided who gets a State of Illinois Scholarship?
If you live in certain school districts, you get first priority in the application process. Within this group, scholarships are awarded on a first-come, first-served basis. Last year, the number of families applying for scholarships far outstripped the number of scholarships that were available. Thus, it is crucial that you apply for a scholarship as soon as possible once the application process begins.
How do I apply for a State of Illinois Scholarship?
The Archdiocese of Chicago is partnering with TWO different scholarship granting organizations, and is encouraging families to complete TWO scholarship applications, one from each of these organizations. These organizations are Empower Illinois and The Big Shoulders Fund. By applying to both organizations, you can maximize your chance of receiving a scholarship.
When is the first day that I submit an application?
Below are the start dates for the two scholarship granting organizations.
Empower Illinois:
Web site: empowerillinois.org/students
Application start date: Thursday, January 15, 2019, at 7:00pm

The Big Shoulders Fund:
Web site: www.bigshouldersfundsgo.org/tax-credit-scholarships
Application start date: Tuesday, January 22, 2019, at 8:00am
As scholarships are awarded on a first-come, first-served basis, it is critically important that you apply for your scholarship as close as possible (ideally, within minutes) of the start of the application process!
What is the application process?
You will need to have the following documentation:
A copy of your family's 2017 federal tax return (pages 1 and 2 only)

If you did not file, then use two pay stubs, W-2, 1099s, or SS disability statement

Documentation of public assistance that you receive, if any (SNAP, WIC)
Proof of your current address

driver license, state ID, current utility bill or renter's agreement, or stamped US Postal Service change of address form

Documentation of the student's age for kindergarten and 1st grade students only (copy of the student's birth certificate, passport, or federal or state Id)
Letter from St. Christopher that you have registered or indicated intent to return next year.

We will be sending these home shortly to our existing families and new familes who have registered for next year

You will also need to know your local public school district and have a valid email address
What other information do I need for Empowered Illinois?
If you are using a Form 1040 as a means of income verification, you will need to supply the amount of Adjusted Gross Income at the end of the application as a verification. If you have a paper Form 1040, the amount is on line 37 at the bottom of the form (or line 4 of 1040 EZ or line 21 of 1040 A). If you have documents on a thumb drive, you will need to open the document on the thumb drive and view the 1040 to gather the information/amount. You should write it down on a piece of paper so you have it when completing the application. If you are married but filing separately, you should add the amount of Adjusted Gross Income from both parents' returns.
I have a specific question about the Empowered Illinois application process. How can I get it answered?
Detailed instructions for completing the application can be found here: Empowered Illinois application instructions. You can reach Empowered Illinois at 855-318-1222 for more information.
If I do not get a State of Illinois Scholarship, what other financial aid is available
For families who do not get a State of Illinois Scholarship, we also have Caritas scholarships, from the Archdiocese of Chicago, and St. Christopher Parish scholarships. These scholarships do not cover as much of the tuition and fees as does a State of Illinois scholarship. Further information can be found on our financial aid page.
Where can I get more information?
Feel free to contact our school at 708-385-8776 or at info@stchrisschool.org if you have questions.
We encourage all prospective families to visit us so that we can explain the details of this process individually to you.
Finally, the Archdiocese of Chicago has additional information on their Fact Sheet or on their web site at www.archchicago.org/tcs.